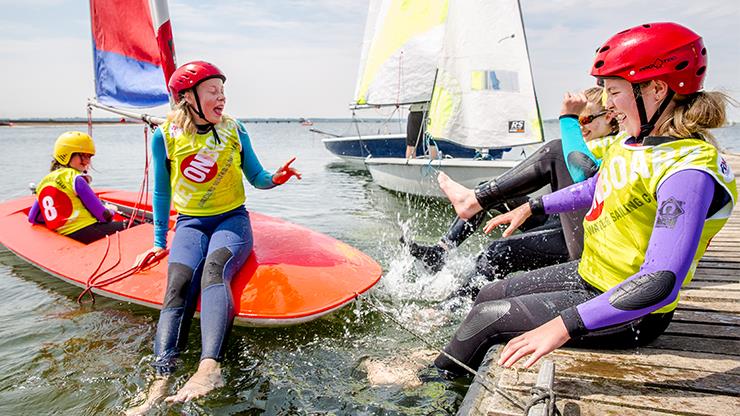 It's all about having fun!
by RYA 11 Apr 13:00 BST
Enjoyment is the single biggest factor in motivating children to be active.
Why do we sail? Well, for most of us the most common answer is that it's lots of fun! So why is that so important, particularly for young people?
A recent landmark report has revealed that enjoyment is the single biggest factor in motivating children to be active. In the UK there are currently around 3 million children and young people (43.3%) that are active, but a third of children (32.9%) are less active, doing less than 30 minutes of activity a day*.
We all know about the physical and mental health benefits of getting active – especially outdoors – and there's never been a more crucial time to get more youngsters afloat, active on-the-water and participating in our sport.
The evidence
Sport England's Active Lives Children and Young People Attitudes Survey the largest survey of its kind – asked more than 130,000 children and young people their attitudes towards sport and physical activity. For the first time, the results have shown that enjoying activity impacts not only the frequency of participation, but also the broader benefit of the activity.
The bigger picture
Amongst the key findings, the survey showed that children who are active and enjoy it are happier, more resilient and more trusting of other children and young people.
Of course, we are already aware of the broader learning benefits of sailing and windsurfing, particularly for young people. In fact, the RYA OnBoard programme was relaunched in 2017 with a new focus on the positive character attributes that are developed through participating in the sport.
Being in control of uncontrollable elements like the wind and the tide; guiding your course, speed and destination and being relatively free to roam where you want; being outside with friends, messing about on the water it may all seem obvious, but these are all things that can make a big difference to enjoyment levels.
Having fun
We have already seen some fantastic examples of on-the-water activity with fun, games and enjoyment at the heart. Here are some of our favourite ideas and initiatives:
Mixing it up – Have you thought about mixing it up? What about pirate days, or fancy dress racing? Using inflatable toys on the race course (instead of conventional buoys)? Putting the parents in the kids boats? Expeditions? Alternative winter activity like film nights when it's too dark and cold to sail? Use your imagination they'll love it!
Friendly competition – Of course some thrive on the race course and for many the element of competition is the best part, however, this doesn't appeal to everyone. Think about ways of integrating youngsters, taking the competitive edge away and making it more enjoyable for those that aren't interested in this aspect. As they say, it's not the winning but the taking part that counts!
We've already seen racing doesn't always have to be serious…
Fun Fleet – The inaugural OnBoard Fun Regattas took place last year as part of the BYS Regional Junior Championships. Aimed at OnBoarders of all abilities, the regatta allowed sailors to have fun, sail somewhere new and socialise with friends. Run by RYA qualified coaches, racing and games included everything from blindfolded sailing, follow my leader, capsizing games – really anything! Find out more.
O'pen BIC 'Un-Regatta' – 86 sailors hailing from Hawaii to Bermuda to Germany, competed at the 2019 O'pen BIC, North American "Un-Regatta" earlier this year. Featuring conventional racing with a twist, competitors took on course obstacles, compulsory manoeuvers, plenty of capsizing, a freestyle expression section and LOTS of fun! What a brilliant concept – find out more.
What have you done to add the element of fun at your club? We'd love to hear from you. Contact us with images and your top tips for injecting extra enjoyment (for both adults and youngsters!) and we might feature you in a future edition of Clubroom.
Moving forward
Not only can on-the-water activity be really good fun, but it also helps young people to develop and get on in life. We can all make a difference, and sometimes it's important to step back, review and make sure that enjoyment is at the heart of all club activity. After all, why do we sail?
Find out more about the Sport England Survey and download the full report here.
For more information about RYA OnBoard, visit www.rya.org.uk/go/onboard.
* Active Lives Children and Young People Survey 2017/2018 Sport England.
Want to read more like this? Subscribe to RYA Clubroom for all the latest club news, updates and advice. Aimed at members and volunteers at RYA affiliated clubs, the monthly e-newsletter is packed with case studies, examples of best practice and everything you'll need to get going again this season.
This Article was originally sourced from Yachts and Yachting and can be directly viewed here.